Stirk House holds a special place in the hearts of many people including our wedding couples, guests from all over the world and of course, the team. We love nothing more than to hear from those who have enjoyed their experience with us, especially on one of the most important days of your life. It is greatly appreciated by all of us here at the hotel that so many people have taken the time to write such kind and thoughtful messages and reviews.
"Hi everyone, we just wanted to say a huge thank you to all of the team. From the first day Elisha showed us round we absolutely loved her and Stirk House, she made us feel so comfortable.
And Lucy, our wedding experience would not have been the same without you. I can't tell you how much we appreciate all your help and support, you've made the planning process feel like a breeze and you are so lovely to work with.
We couldn't recommend Stirk House enough, our day was perfect, not only because the venue is stunning but because the whole team can't do enough for you and it feels like a little family.
Dave made our day run so smooth and everyone commented on how fantastic he was, especially when helping our Uncle Paul with his wheelchair.
We could go on and on about how amazing you all are, so I'll just finish with another huge thank you!!
Of course we will leave fantastic reviews too!
Love Lauren and Ben x"
"To The Wonderful Team at Stirk House – We can't thank you all enough for making OUR DAY just amazing!!
From all the little touches to the fantastic communication always answering emails straight away. A big thank you to Dave for making our day run so smoothly and for making sure we always had a drink in our hands!
Couldn't have asked for more and so glad we chose Stirk House Hotel for our wedding day we will treasure the day forever. Can't wait to come back soon for a Sunday Roast!"
"Had the most amazing day for our wedding last week on 01.09.23. Stirk House was outstanding from start to finish, thank you to the wedding coordinators Danielle, Lucy & Elisha for answering my endless questions and making sure everything went seamless.
Food was incredible and had so many compliments, all food came out so quick and no table was without while others ate which is a rare thing at weddings and we was very impressed.
Dave is just amazing, he made sure the day ran smoothly and kept everyone in the know, nothing was too much and the energy was kept high throughout the whole day!
Just wish I could do it all over again, THE perfect wedding venue and will be visiting each year on our anniversary to relive this magical day!
Thank you for everything, Mr & Mrs Gori (Mr & Mrs G) xx"
"We wanted to drop a message to say a massive thank you for making our wedding day the most special and magical day ever.
Right from the initial appointment to staying the night before the wedding and the day of, all the staff were absolutely fantastic and couldn't do enough for us to make sure the day went perfect. Special shout out to Dave, all our guests can't stop talking about him, he truly was amazing and such a credit to have someone like this on the big day.
Once again a big thank you for everything and we can't wait for when we get to come back to see everyone and hopefully celebrate anniversaries and other events with you."
"Where do we start! A fantastic experience from start to end.
We originally went to look around Stirk House for a wedding venue and could not believe how beautiful this place was. When we first met Danielle she was great, even though it was through Covid times and just put our mind at ease with planning a wedding. We knew straight away this was where we wanted our wedding.
Over the next couple of years and a baby in between, myself and my husband visited Stirk House numerous times and could not fault anything. The staff are fantastic, and this really does show what a great little hotel this is.
Danielle and the team could never do enough for us and were always on hand when we needed them. Also a big thanks to Paul, he really did put both myself and my husband at ease throughout the whole day and was just great. The whole team really made our day perfect in every way and we just wish we could do it all again.
Thank you again to everyone at Stirk House you really made our wedding a truly memorable experience and we can't wait to come back soon.
Amy and Mike."
I'd seen pictures of this venue online and had my eye on it for years (even before I was engaged!) So, it made perfect sense to have a venue walk round when we were wedding planning.
From the moment we walked through the doors when choosing our venue, we instantly knew it was the one. Lucy made us feel extremely welcome and guided us through the whole planning process.
The actual day itself was so magical. The grounds were beautiful and made for an amazing background for our photos. The food was to die for and I would eat it every single day if I could! The team couldn't do enough for us and nothing was too much trouble for them.
I also wanted to say a big massive thank you to Dave! What an absolute SUPERSTAR! You made our day run smoothly and kept all of our guests entertained. Every single guest commented on how fantastic you are! Couldn't have asked for a better person as master of ceremonies. They are incredibly lucky to have you!!
For everyone looking for a wedding venue, do not hesitate to book Stirk House! If you want a venue that is as beautiful as it looks on the pictures!
So finally, thank you for a magical day!
Mr & Mrs Cottam
"We have just recently got married at Stirk House and we cannot recommend this venue enough!
The whole team who looked after us from Elisha, Dave, Sam – you gave us the most perfect day.
The sun was shining, the food was amazing, the service was unbelievable and our guests were looked after all day. The evening before the bridal party stayed and had a gorgeous meal, the girls all took advantage of the suite to start wedding preparations and our breakfast was brought up to the room. Dave handled the groom and all the groomsmen like a pro and was so well mannered and polite. He gave me the most perfect moment with my Dad for the bridal reveal.
If any couples are looking for a venue then we would highly recommend Stirk House – 5 stars, 10/10 and 100% from us. Our whole day was magical and we cannot thank you all enough for helping us create the most perfect wedding day."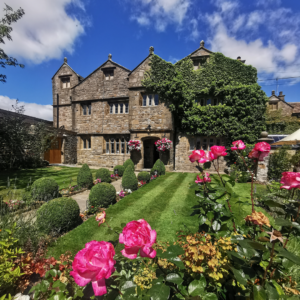 "Wow – What an absolutely stunning venue. We arrived for my best friends wedding Thursday night and left Saturday morning. The suite we stayed in to get ready and the bridal suite was beautiful. The level of detail from staff bringing up breakfast to Dave the compare making sure we are okay and on track!
The bar staff, Cameron, Elle and Ketzia making sure that everyone was served timely and well! (Those 'snicker' shots were amazing!) The food was gorgeous, really good quality products, and the rooms were nice too. I cannot praise the staff enough who made everyone feel welcome and special. Thank you for a wonderful time!"
Mr. & Mrs. Culshaw-Heeley
We had our wedding at Stirk House on 17.12.22! It was a pleasure working with the whole wedding team. Planning a wedding in just 4 months seemed an impossible task but with the help of Elisha, Danielle, Lucy and everybody else at Stirk House made it all effortless.
Also a big shout out to Dave! He honestly completed our day. He was a ray of sunshine from the moment he arrived to greet us. Making sure everyone knew exactly what they needed to be doing and organising the day to make sure it all went to plan.
Meg Senior Ceremonies (Celebrant)
"I conducted a wedding at Stirk House this summer and the team were a treat to work with. Whenever I officiate here, they manage to make everything calm and smooth, but with warmth and fun at the same time. It feels like a family run business, which is such a lovely atmosphere for a wedding venue!"
"Where do I start… Stirk is the most stunningly beautiful wedding venue. Our wedding was the best day of our lives and everyone at Stirk was faultless and couldn't do enough for us – they were out of this world from planning with Lucy and the wedding team to being with Dave and the wonderful Danielle on the day we couldn't have asked for anything more!!
Our guests where blown away by the sheer beauty and stunning views Stirk had to offer it truly was a real life fairy tale!! I would recommend Stirk one million times over to anyone. Thank you to everyone at Stirk for making our wedding day – well and truly the BEST day of our lives, they couldn't have done anymore!! much love, Mr and Mrs Williams xxxx"
"We booked our wedding back in 2018 for 2020. With covid we have had 3 dates in total and talking to other covid brides I heard horror stories of how they were being treated by their venue but all the Stirk House team were nothing but AMAZING!! They were always in contact and always so calming and said that we would get our special day and boy did we!!!
We finally tied the knot in September 2022 and it really was the perfect day and I know this is because of the Stirk House team!! Thank you to the wedding team from the moment we booked right up until the day you made planning a wedding fun and so easy!
Thank you to the chefs the food was delicious and everyone was saying how good and hot it was on the day!! The bar staff!! Our guests certainly kept you busy that night but you was always smiling and was quick and just brilliant! And Dave!! You really are a special person and you made our day so fun and memorable!!
And even to the grounds people. Wow!!! All outside was just perfect and like something out of a film!! All our guests couldn't get over how beautiful the setting was outside!
So if you are looking for a venue for any special occasions then all I am going to say is bob in and see it for yourself because you will see just how amazing everything is!!
Thank you guys and we can't wait to come back!!
Love, the Holdings."
"What can I say, thank you so much to you all. From booking our wedding all the way through to the end you have been amazing. Nothing has been to much trouble. We had the best day and our guests haven't stopped talking about it!
Your attention to detail has been spot on. From fixing problems with our suppliers early to Dave bringing up fizz for us to toast in the morning! Honestly the best day of our lives. Anyone with a wedding booked here are in for treat! Once again thank you we can't wait to visit you soon."
"We had our wedding here in August and cannot recommend this beautiful venue enough! From the two years leading up to it, the staff have been fantastic!
Lucy and Danielle were always there by phone or email to answer all our questions and even to give us ideas and hints and tips regarding things we hadn't even thought of! Every time we attended a meal taster or just had another look round, every single member of staff made us so welcome.
The day itself was just perfect and Dave took any stress away and had our 100+ guests on their feet singing and dancing before we even started our wedding meal! Cannot thank all the staff enough, especially Lucy, Danielle and Dave – the real dream team! xxo"
"To Danielle / Lucy / Elisha / Dave & Everyone at Stirk House!
Thank you for the most amazing wedding we could not have asked for anything better. From the moment we first went to Stirk House we booked our wedding and we were made to feel so comfortable and relaxed. We were looked after all the way through to the end of the wedding. Stirk House is an absolutely stunning manor house surrounded by stunning countryside.
We cannot thank you all enough for making our wedding so special and such a beautiful occasion you have truly made us happy. We would like to thank you and your staff for all the wonderful work you did to make the day absolutely perfect for us all. We found from the moment we arrived that you were on hand to help and guide us through the day.
The arrangements for the ceremony, reception, the meal, and the evening went without a hitch. The food was delicious and the service throughout was impeccable. At the end of evening you were still there to help with our wedding gifts and decorations.
Danielle, Lucy, Elisha and Dave thank you again for the professional experience and heartfelt warmth you treated us with.
See you all again soon lots of love Cheryl & Martin Mesa xx"
"We had the most perfect and magical wedding at Stirk House yesterday! A stunning venue with beautiful ceremony and reception rooms, fabulous bridal suite and exceptional grounds, outdoor patios and views.
The staff are all, without exception, fantastic. Nothing is too much bother for any of them. They are all friendly and helpful and made every guest feel welcome. Despite a massive power outage, the staff made sure the day was seamless.
The food was fabulous and the alcohol was flowing even though everyone was slowly melting in the heat! The legend of an MC, Dave was fantastic and will make anybody's wedding a day to remember!
Any brides out there looking for a stunning country wedding venue, I would recommend a trip to Stirk House you won't be disappointed!"
"We recently had our wedding at Stirk House finally after three date changes due to the pandemic.
We picked this venue back in 2018, we fell in love with Stirk House straight away, the staff were so lovely and accommodating we ended up booking the wedding on the first day we visited.
I can honestly say the communication from all the team has been incredible, Danielle and Lucy have been absolutely amazing from when our wedding was cancelled the first time in 2020, they were so lovely, kind and sympathetic and we're able to amend the date for us, then again in 2021 we had to cancel due to the restrictions, Danielle went through every single date and we moved it to this year.
Danielle and Lucy are absolutely fantastic at their job, nothing is too much trouble. They were great for advice leading up to the wedding and helping with any little detail needed.
When our day finally arrived on 8th July, Helen was fantastic at the reception helping people out with the rooms and also helping me the night before. On the morning of the wedding the team were incredible setting up for our day, not one little thing out of place, everything was how I imagined and more. Danielle came up to the suite to check on how I was doing in the morning, it was a lovely gesture and asked if I needed anything and made me feel at ease.
Just as the nerves started to kick in, Dave turned up, Prosecco in hand and pouring glasses for me and the bridesmaids, what an absolute legend he is!! He's absolutely fantastic, whenever we went up to the venue for meetings Dave would recognise us every time and made sure we had everything we needed.
Throughout the whole day Dave was there, from escorting us to the ceremony room, to announcing us into the breakfast room and then finishing off on the dancefloor. Everyone loved Dave, he is fantastic at his job, so kind, fun and will be there on hand to make sure your day is incredible! Stirk House would never be the same without Dave! Great guy!!!!
Also another mention to the staff in the restaurant, you guys are incredible too! Very accommodating and the food is fabulous!
We wish we could do it all again, we had the most special day and we will treasure the memories forever.
Thank you from the bottom of our heart.
Mr & Mrs Shaw – 8th July 2022″
"When it comes to reviews there is no way you can write all the fantastic things about this place in a few sentences. So grab a brew and find your comfy spot on the sofa for a bit of light reading!
From the moment we walked through the doors when choosing our venue, we got that fuzzy feeling. Meeting Lucy instantly put us at ease, she is so friendly- and just by being herself, made us feel so confident about Stirk House.
All the staff at this place are AMAZING! I've never been to another place were every single one you meet are friendly, chatty, and will bend over backwards to do what they can to make your experience the best. We have visited a few times since booking our day and every time it's the same.
The girls in the wedding team are brilliant, and what they don't know about wedding planning isn't worth knowing! Nothing was ever too much, even the times I felt I was being a demanding bride- they didn't falter! Even having to move our Wedding day to a new date, was stress free.
Dave- you are a LEGEND! From the moment you walked in the room, you made everyone feel great! You really connected with me and my husband and made our experience so personal. Our guests loved you and how you got the day to just flow with ease. Everyone needs a Dave on their wedding day!
The building and the grounds at Stirk House are just immaculate. Its such a beautiful place. I have slept in 4 different rooms here and each one was so clean , tidy, beautifully decorated and comfortable, yet all rooms are unique! The restaurant is lovely – And the food tastes so good! Breakfast is one thing I look forward to.
The wedding day itself was perfect from start to finish. Like a well oiled machine- it went exactly how it should! Every little detail considered. The room was beautiful, the new terrace is a great addition and we were fortunate enough to have the sun shine for us.
I wish I could properly explain the feeling we had, and just tell anyone who is thinking of booking Stirk for your day to stop thinking and just do it! As you will not regret it. I would do the whole day again in a heartbeat.
Stirk House – You have been AMAZING! I wouldn't leave if I didn't have too. We will definitely be back!
Mr & Mrs Harris
2nd July 2022"
"We got married at Stirk House on 12th May 2022. I cannot begin to put into words how magical and special the day was. Dave and all of the staff made the day run so smoothly and made sure that everything was as perfect as it could be.
When I arrived at Stirk House on the 11th I was nervous and worried. I was instantly put at ease by Danielle who had made sure the ceremony and breakfast room was just as I had asked for. The food was amazing! All day and night my family and friends commented on how amazing the venue and staff was.
The young man that was serving behind the bar was equally as amazing! He went above and beyond for my guests and was always polite and friendly. The rooms were amazing and so welcoming. This was very much appreciated by my family who had travelled a distance.
I cannot thank all of the staff enough for ensuring that our day was special and just as we had planned and spoke about for so long. Not only did they make it special on the day, Danielle and Lucy stayed in contact with us prior and would often check-in.
Overall amazing experience!!"
"What an absolutely beautiful venue, the staff are incredible who go above and beyond to ensure your day is completely perfect. We will be back we've promised to make more memories. We loved every minute of our wedding day it was totally perfect in every way. Thank you Danielle, Lucy, Dave & all at Stirk House… Sam you were so lovely too, the bar staff on the night, the kitchen staff, the receptionists, you all are an amazing team. Love Mr. & Mrs. Beckett"
"We got married in April and we couldn't recommend Stirk House enough. The venue is absolutely beautiful and the staff, well you couldn't wish for better. We had the upset of 2 years worth of cancellations due to covid, but our wedding coordinator Danielle helped us rearrange our dates with no stress.
We had the best day we could have wished for, so thank you to Stirk House for making our big day so special. Perfect venue, amazing food, the best masters of ceremony everrr – Dave, fantastic staff and just simply the best place to get married.
Much love, Mr & Mrs Eastwood xxx"
"I honestly don't know where to start! We got married on 12.03.22 (third date change due to Covid) and Stirk House have been fantastic from start to finish and extremely supportive during stressful Covid times.
I cannot thank them enough for everything, our day was everything we wanted and more. Dave is just so amazing and really made our day for us. Danielle and the wedding team have been great supporting us through our planning stages over the years.
All of our guests said how lovely the venue was, how great the staff was and also said the food was delicious! Dave was also mentioned several times by our guests saying how fantastic he is! Thank you so so much for everything. Highly recommended!"
"Had our wedding here on the 11.03.2022 finally after two previous dates due to covid. I can't thank the wedding team enough for all their help and customer service throughout the pandemic they couldn't do enough to sort us new dates out and nothing was ever to much trouble to ask.
The actual day was seamless and just so perfect! I can't believe it's been nearly a week! Everyone commented on how beautiful the venue was, their rooms and the breakfast. They made me feel so special on my big day and I wish I could re-live it all again as it's true what they say, it really does go so fast!"
"We have now had two special day's at Stirk House, a "micro" wedding in June 2021, and our full, big day this Saturday (12.02.2022).
On both days the staff were absolutely fantastic but in particular this weekend – I don't even know where to start! What an absolutely amazing day, in fact weekend, we both had. It couldn't have gone any better and was everything we envisioned and more!!
As always, Dave went over and above to make sure that not only we had an amazing time, but all of our guests too. He is just fantastic. In fact all of the staff are! A special thanks to the lads behind the bar who were so friendly and came up with some fabulous mocktails, cocktails and an array of different shots for our guests.
We honestly can't thank you all enough for making everything come together so well. Our big day was such a long time coming, after so much swapping and changing over the last couple of years, and you all made it so perfect for us.
We can't wait to find an excuse to visit again!!
Mr. & Mrs. Bennett"
"What can we say about our wedding at Stirk House last week, there aren't enough words to sum up how amazing the whole team have been with us. We had such a beautiful day and every part of it was perfect.
We fell in love with Stirk when we visited by the off chance in January 2020 and booked our wedding there and then. It's such a gorgeous building, from the views to the gallery room, the orangery and the ballroom.
We were also met with warmth from Danielle and the team who accommodated us turning up without a booking. They supported us through the changes which we had to make due to covid and moved our wedding along 12 months keeping us up to date throughout.
I stayed the night before with my mum, daughter and "Chiefy B" as Dave called her. We were again made to feel special and had a lovely evening and wedding prep morning. Dave and Danielle were on hand to get whatever we needed and informed me of arrivals – people, cake, flowers etc. The setting was just pure joy, the Gallery room looked beautiful and throughout the service we didn't have to think or do anything as everything was in hand.
All of our guests commented on how beautiful the place was, how the food was amazing, from canapés to the wedding breakfast. They also loved Dave, he was funny, attentive to guests, knew which ones he could have a laugh with and created so much fun and laughter throughout the day.
Everyone's needs were taken care of. Other people who helped create the magical day were recommended by Stirk and they too added to magic, Creative, Hannah at Val's Florist, Paul the DJ and all the bar staff and waiters.
It's a magical place and if you're considering having your wedding here then you really must.
We'll be back as we've agreed to spend our anniversaries here.
Mr. and Mrs. Healey x"
"After several postponements, the much-anticipated wedding celebration for our son and daughter-in-law was held at Stirk House on 30 December. I cannot recommend the hotel enough!
Throughout the long period of uncertainty the hotel staff – particularly Danielle – have been supportive and proactive, and the welcome extended to all guests and family members was exceptional. Every member of staff was friendly and helpful throughout a long day – and night – and also at breakfast when ongoing conversations and reminiscences must have obstructed the access to tables for serving staff. The catering throughout was flawless and the accommodation wonderfully comfortable.
Apart from the atrocious weather – which saw Dave shepherding guests tirelessly under umbrellas through torrential rain – there is not a single detail that was overlooked, nor was there anything we would have changed.
If you are reading this and wondering if Stirk House is the place for your special celebration, it is!
Thank you."
"Well what can I say?? We had our wedding here on 23/09/21 and were absolutely blown away with it. The venue was absolutely stunning and the staff could not do enough for you – even allowing us to have a helicopter land in the grounds!! The star of the show has to be the master of ceremonies – Dave!! He made sure the day flowed perfectly and that our every need was attended to.
If anyone was thinking of having their special day here then without hesitation I would say do it!!! You definitely won't regret it!"
"Just had our wedding on Friday 10th September and was truly best day of our lives, Stirk have the most friendliest and caring staff and can't do enough for you, every single guest said how lovely the atmosphere was there and how polite and helpful the staff are, I can't fault them and wouldn't of wanted to get married anywhere else, thank you to the Stirk House team for making our Disney fairytale wedding come true."
"I don't know how to put into words how amazing our wedding day was! It was just amazing from start to finish. Danielle, Lucy and all the team at Stirk House couldn't do enough for us, I didn't have to worry about anything at all, everything was taken care of.
The venue is the most beautiful place set in such lovely gardens and surrounding areas, all of our guests complimented on how incredible it was and how amazing the wedding breakfast was. Stirk House will hold a special place in our hearts and we can't wait to come back and visit for the night.
I highly recommend visiting, staying, eating or marrying at Stirk House."
"Hi everyone at Stirk,
THANK YOU so much from the bottom of our hearts for an incredible day on Thursday!!! We absolutely loved every second of it.
When we booked with you back in January 2020, we had no idea that we were about to plan a wedding in a pandemic but your team made it enjoyable despite all the uncertainty. You are all the perfect blend of professional and friendly and we knew we were in good hands right away! We are so happy and lucky to have been able to celebrate with 89 guests!
All our guests were wowed by the venue, the stunning grounds, the food and all the lovely decor that you helped to put together with our amazing suppliers.
Dave was fantastic too, he brought a dimension to our wedding that we wouldn't have been without! We felt well looked after and he is such a breath of fresh air. We will always remember meeting Danielle when we first looked round, she made us feel so welcome and we were sold on Stirk straight away. You have all been wonderful, we are forever grateful. I've left a review from you both on fb today.
We look forward to returning to Stirk in future, for sure!
All our love, Mr. & Mrs. Johansson X"
Louise & Harry (Mother of the Bride)
"Hi Danielle
I just wanted to put in writing what an absolutely amazing job you and your team did in ensuring that Tuesday was so perfect and went without a hitch.
You have been so wonderful during the whole planning process – enduring my endless questions and obsession about table cloths. Thank you for putting up with me, and especially for ironing all of the table cloths on the morning of the wedding. They looked perfect.
The venue looked stunning and Dave as always ran things with military precision, with true Lancashire spirit – a true gentleman, with such wit and humour.
The whole of the waiting on team served everything to perfection – efficient service with a smile, both at the wedding and at breakfast the following morning. The food was first class and many guests commented on the quality of it.
I can't believe how quickly the venue was turned around ready for the next wedding on Wednesday. A true testament to such hardworking staff.
The bedrooms were spotlessly clean and very welcoming. Many guests commented on how comfy the beds were.
Please pass on my heartfelt thanks to everyone involved in the process however small their role, whether front or back of house. Helen must be justifiably proud of you all.
Thank you for giving us the perfect day.
May I take the opportunity to wish you and your fiancé a perfect day too on your forthcoming wedding.
Hope to see you soon, much love, Elizabeth (and Tommy!) Xxxxx"
"Excellent Wedding Venue. Amazing staff.
Me and my husband had our wedding at Stirk House on the 12.08.21 and it was incredible from start to finish.
I'd first come across it online whilst searching wedding venues 2yrs ago and fell in love just from the pictures but then seeing it in person was something else. The driveway, the grounds, the building were just stunning to look at as you drive up and I fell in love all over again.
The weddings team (Danielle, Lucy & Elisha) are absolutely amazing, and they couldn't do enough for me. I must have had a million different questions over the 2yrs and they answered every single one so I didn't have to worry over a single aspect of my day. Danielle was also there the morning of my wedding to help me out if I needed it.
The toastmaster/master of ceremonies Dave is one of the most amazing, loveliest people I have ever met. A loud jolly Yorkshire man, he was an absolute pleasure to be around and made sure our day ran smoothly from start to finish, even with me being late to the ceremony. Our guests all loved him, and he absolutely made the day. No one should ever get married without a Dave!
I cannot praise the whole weddings team enough.
The food, the drinks, the rooms, the grounds, the views. Everything about Stirk House was perfect and I couldn't imagine getting married anywhere else. We really did have the best day of our lives here."
"Wow! The beautiful Stirk House! We got married at Stirk House on Sunday 8th of August and after what seemed like a lifetime of planning and waiting… It really did live up to everything we hoped and dreamed of!
After visiting multiple venues across the North West last year we were blown away leaving Stirk! The grounds and hotel were stunning and the staff were so welcoming and helpful… We knew it was the venue for us! Honestly, the day was perfect from start to finish (even in the rain) and ourselves and our guests had the best time! This was our second wedding date (having had to cancel last year) but Danielle and Lucy made it as stress-free as possible and have been truly amazing from start to finish!
Dave (Master of Ceremonies)… What can we say… On the day Dave went above and beyond to make sure the day ran smoothly from start to finish. Nothing was ever too much and his spirit and enthusiasm meant that ourselves and all of our guests had a wonderful time! Everyone needs Dave on their wedding day and Stirk House are lucky to have him!
Thank you to all the team at Stirk for making our wedding day so special!"
"We got married on 7th August 2021, this was our 2nd date due to covid, so was long awaited.
Firstly I would like to say how amazing and understanding the wedding team were during all of the changes due to covid and made the process of changing our date incredibly easy and stress free.
The day itself was incredible, everything we wanted and more. The venue was stunning and the staff couldn't do enough for us and our guests. Dave is one of the most jolly people I have ever met and I will forever hear the term "chief Bs" when thinking about my bridesmaids. Thank you so much to all at Stirk House for making our day so special xx"
"We got married at Stirk House on 1st August 2021. We were one of the lucky couples who didn't have to change our date due to the pandemic, however Danielle, Lucy and all the wedding team were so attentive and kept in touch with us throughout the whole planning process.
The day was the best day ever. Dave, the master of ceremonies, made our day even more special. His attention to detail is outstanding. We could not have chosen a more perfect wedding venue and would like to thank all staff at Stirk House for making it the day of our dreams.
From the new Mr. and Mrs. Cox"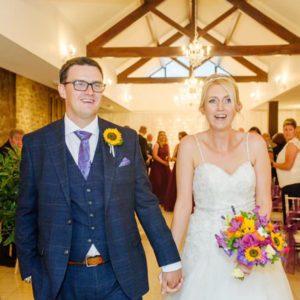 "We got married on 28th July 2021 having postponed from July 2020 and it truly was the best day ever from start to finish. Stirk House as a venue is beautiful (plus the amazing grounds). We booked in April 2018 and from walking through the doors didn't want to get married anywhere else.
The weddings team are amazing and were such a support through lockdown checking in with us and keeping us updated. Danielle, Lucy and Elisha are so helpful, and no question was too big or small. They truly go above and beyond.
Our day went so smoothly even if we did have torrential downpours! Lastly, a massive shout out to Dave who is just amazing & made all our guests so welcome. He's so personable & makes you feel like your wedding is the wedding of the year. Our 2-year-old daughter now does fist pumps and high fives which are known as 'Dave!' It's true that everybody needs Dave for their wedding day.
We wish we could get married all over again. Stirk House will always hold a special place in our hearts, and we can't wait to come again soon xx"
"We first looked at wedding venues in 2018 and we'd seen 8 prior to visiting Stirk House.
As soon as we saw this venue, we knew it was where we wanted to get married and I'm so glad we did. We were one of the lucky few who got married on their original date and throughout the pandemic, the weddings team have been excellent. I've heard horror stories of how venues have treated their couples but it has been a dream working with the weddings team at Stirk House.
Even though Danielle had to isolate the day of our wedding, it all ran perfectly without any input from me or the groom because they are so organised in everything they do.
We stayed over the night before our wedding and the suite was perfect for me and my bridesmaids. The Honeymoon Suite is stunning as are the grounds and hotel and all the staff are so friendly and helpful.
We'd highly recommend Stirk House and would like to give a special thanks to Danielle and Dave for helping to make our day perfect. Mr. and Mrs. Carlton."
"What an absolutely amazing wedding day we had. We got married here 6 weeks ago after it being postponed a year and couldn't have asked for a better day! Even with some restrictions still in place, it didn't spoil a thing for us!
The staff couldn't do enough for us, especially Danielle who has kept in touch with us the whole time & made everything so smooth & easy for us!! & Dave, who had us in stitches all day!! The grounds were stunning and I would recommend this venue to everyone!! Best day ever."